​

ESS (Energy Storage System)

​
Application : Battery Cabinet
Where to use : : Photovoltaic Power Facility
To ensure the stable operation and life of Battery
The interior is sealed and separated from external effects such as cold, hot, dust, and moisture.
Maintain the proper temperature with minimal power, including eco-friendly cooling and heaters.
Quick exhaust system, automatic fire extinguishing system, and other accessories to prevent fire accidents
Outdoor Cabinet to ensure maximum availability of ESS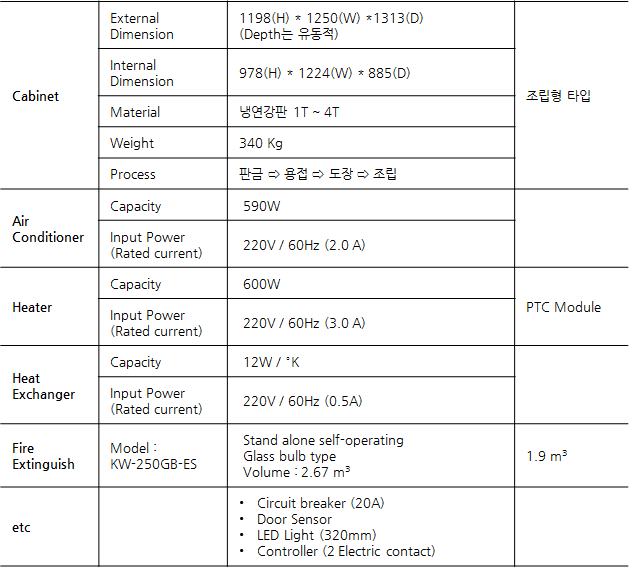 Application : OOOOO (for trailer mounting)
Where to user : Ministry of National Defense (ROK)
Operating on a trailer as a solution to control OOO.
- More than IP66
- More than IK10
- Double Vibration Protection Applies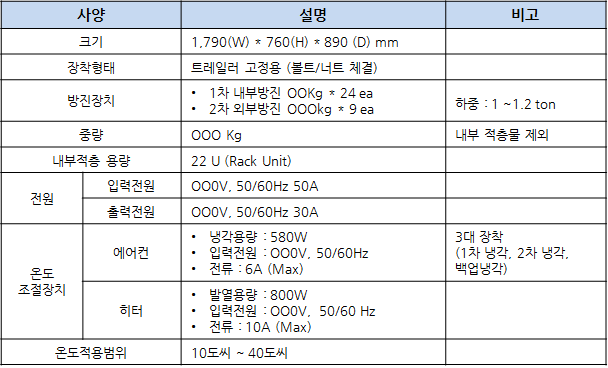 Water supply and drainage device
Application : Adjust humidity and discharge condensate.
Where to use : #HVAC, #Cooling_Unit #Micro_Data_Center, #CoolingRack
- Adjust the automatic feedwater and feedwater pressure.
- Humidity is controlled through vibrator and automatically stops when water is low
Available for sale
Modifiable according to purpose and use
Monitoring & Device Controller
Application : Monitoring & Device Control
Where to use : #Cooling_Devices #HVAC #Rack #Heating #Monitoring
- Remote control over TCP/IP (software purchased separately)
- various interfaces : APP, WEB, SMS, API
- Cooling Control
- Heating Control
- Humidity Control
- Access Control
- Emergency Control
Available for sale
Modifiable according to purpose and use